lainformacion.com, 2011 Original graphic: The team with best honors according to your own criteria Pick the value of each trophy that any spanish soccer team could win. According to that criteria, the infographic will depict ...
lainformacion.com, 2011. Original graphic: Anatomy of a tornado Videographic created to explain the origin and causes of twisters. My part in this work was the 'screenplay' and graphics. I also edited two interviews done by ...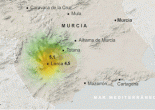 lainformacion.com, 2011 Original graphic: Earthquake in Lorca In May 11th 2011, the village of Lorca (Murcia, Spain) registered two erthquakes. Despite they were not big earthquakes, Lorca suffered severe damages and there were at least ...
May, 12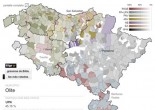 lainformacion.com, 2011 Updated version, breaking news during the night of the local elections of Spain : Results of local elections, Spain 2011: the strength of Bildu Version of a previous graphic: Where Bildu is strong ...
May, 12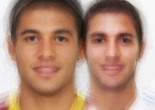 A Base de Datos (lainformacion.com blog), 2011 Original post: The faces of Real Madrid and Barcelona The images of the Barcelona and Real Madrid players you see are the result of the overlay of all ...
Apr, 15
lainformacion.com, 2009 (updated in 2010) Original graphic: Timemap of Spain by train Map that shows the change of the shape of Spain if we put as coordinates the time that will take you to go ...
Apr, 14
lainformacion.com, 2011 Original graphic: Earthquake and tsunami in Japan Breaking news infographic showing the epicentre of the earthquake that caused the tsunami of March, 2011. First version published 20 minutes after the new arrived to ...
Apr, 14