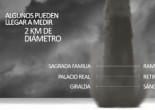 lainformacion.com, 2011. Original graphic: Anatomy of a tornado Videographic created to explain the origin and causes of twisters. My part in this work was the 'screenplay' and graphics. I also edited two interviews done by ...
May, 12
lainformacion.com, 2010 Original graphic: Causes of death in Spain A treemap showing all the reasons why spanish people died in 2008, with groups of causes (tumors, circulatory system, not natural causes…) and particular reasons. Each ...
Apr, 14
lainformacion.com, 2009 Original video: Great Pacific Garbage Patch Videographic explaining the great Pacific garbage patch interviewing its discoverer (Capt. Charles Moore). Video by Miguel Fernandez and interview by Antonio Martínez. My part in this graphic ...
Apr, 14
Público, 2008 The hypothetical process followed by scientist to create artificial cells from syntethic DNA.
Apr, 13
Público, 2008 An explanation of the evolution of the first patient of face transplant, a french woman. We focused on the transplant, the evolution of the face with and without makeup, the sensibility and the ...
Apr, 13
Publico, 2008 An explanation of the Jarvik 7, the first artificial heart. How it works, the size and the evolution.
Apr, 13
Público, 2008 How a bionic hand works. A spanish girl was going to receive the first bionic hand for an spanish person, so we explained the different models, how it works, the kinds of grips…
Apr, 13